Data Protection in the Mesh with Tetrate and LeakSignal
Oct 12 2023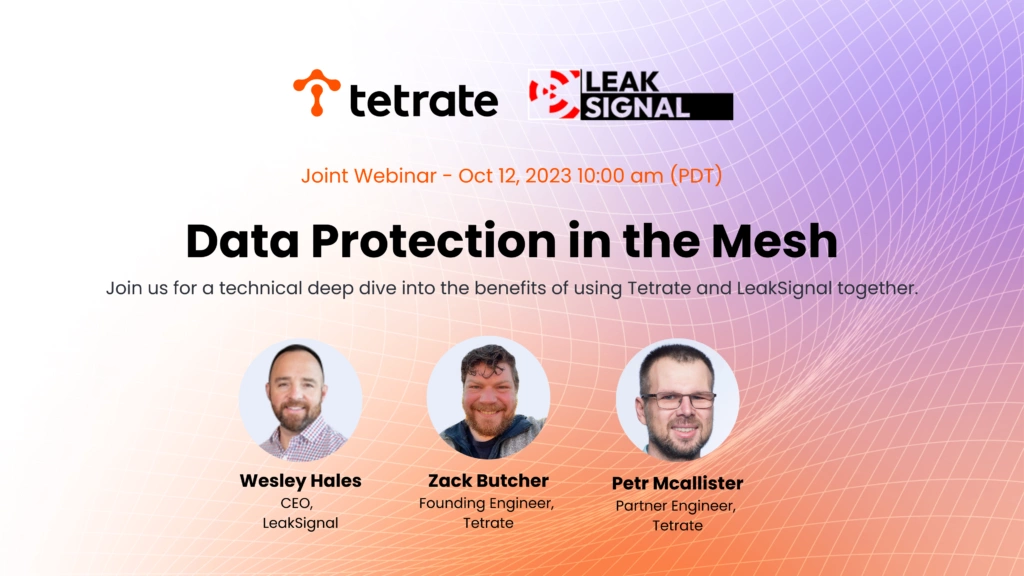 In this joint webinar with Tetrate and LeakSignal, we unveil how these two powerful solutions seamlessly collaborate to fortify data protection within your mesh environments. Join us for a technical deep dive into the benefits of using Tetrate and LeakSignal together.
As microservices and mesh architectures continue to redefine modern computing, robust data security becomes paramount. Tetrate and LeakSignal, a specialized data protection solution, have joined forces to address this challenge. On their own, Tetrate Service Bridge and LeakSignal provide security capabilities that help keep your deployments secure. But using Tetrate's gateway capabilities, LeakSignal deployment becomes effortless, and together they provide a unified and streamlined experience for securing your microservices. The webinar will focus on the unique capabilities of each solution, highlighting how they integrate to provide a fortified security framework for your mesh environments.
Throughout the session, we'll bring these solutions to life by exploring practical use cases and real-world applications. Discover how Tetrate and LeakSignal bring synergy to offer:
Automate Mesh Segmentation: Automatically segment services based on the sensitive data they touch. Witness the seamless creation of Service-Based Access Control (SBAC) rules within your mesh environment.
Service-level Data Protection: Services can build trust through mutual TLS (mTLS), authentication, and authorization policies. However, what happens to the data leaving the service after these checks? Discover how to effectively monitor and safeguard data as it flows out.
Data Flow Protection: Gain valuable insights into token-to-sensitive-data ratios across services and implement strategic measures like rate limiting and policy enforcement to prevent nefarious data access.
By the end of this webinar, you'll have a comprehensive understanding of how Tetrate and LeakSignal combine their expertise to deliver a robust data protection solution tailored to the complexities of the modern mesh. Join us as we embark on this journey to fortify your microservices and service mesh environments.
Speakers
Wesley Hales
CEO, LeakSignal
Zack Butcher
Founding Engineer, Tetrate
Petr Mcallister
Partner Engineer, Tetrate
Watch now
Date and Time:
Oct 12 2023 | 10 am