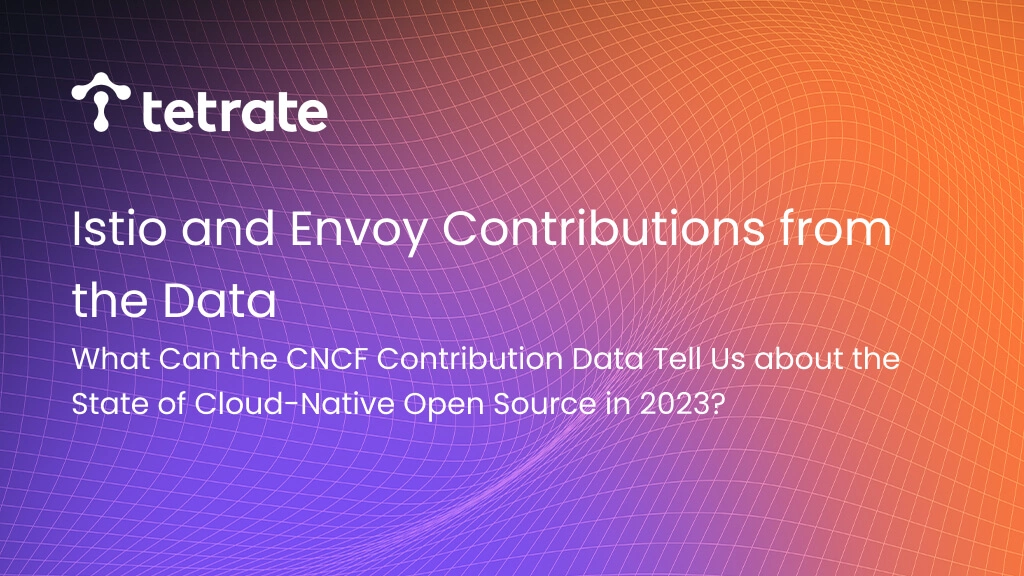 With Istio reaching its recent milestone as the fastest CNCF project to advance from incubation to graduation, we thought it might be worthwhile to look at the contribution stats of various related projects (freely available from CNCF) to see if anything interesting pops out of the data.
Hypothesis: As Kubernetes Goes, So Goes the (Cloud Native) Nation
Our first impulse was to compare project contributions over time against Kubernetes as a benchmark (Figure 1)—and, all that really tells you is that Kubernetes is the Jupiter of this solar system. Everything else hugs the bottom of the graph by comparison.
So, we indexed the same data so the max data point of each graph is scaled to 100 (Figure 2). (The graph is a bit hard to read with all datasets visible, but you can toggle the visibility of each data set by clicking on its entry in the legend.)
Perhaps not surprisingly, a somewhat consistent pattern emerges: an initial (years-long) steady ramp in contributions as a project grows, followed by a leveling off to a steady state as the project reaches a certain level of maturity.
Who's Contributing to What?
As long-time contributors to both Istio and Envoy, we were of course keen to see what company we kept, so we took a glance at the contributor stats to see what that looks like. Istio continues to have a broad base of support from stakeholders both large and small, with Google not surprisingly the largest contributor (Figure 3). It's a similar story for Envoy (Figure 4).
Because we couldn't help ourselves, we wanted to see what the contributor landscape looked like if contributions to Istio and Envoy were added together (Figure 5). We were pleased to find Tetrate second only to Google as the most overall prolific contributor.
And, because companies are made of people, we also wanted to highlight the individuals who have contributed the most to the Istio and Envoy ecosystem (Figures 6 and 7).
We couldn't help but notice that Tetrand Arko Dasgupta (arkodg) and former Tetrand Lizan Zhou (lizan) are both prodigious contributors to Envoy–but, the crown goes to Ryan Northey, aka phlax, whose work we're proud to support via CNCF.
Tetrate's Talented Engineers
While being a top contributor stands out in a chart, we would be remiss if we didn't acknowledge important contributions other members of the Tetrate team have made. In the past year, 20 engineers from Tetrate have worked on upstream projects.
Tetrate's exceptional contributions to Istio and Envoy Proxy have been made possible by its remarkable team members' hard work and expertise. Here are some of the outstanding contributors who have played pivotal roles in the service mesh landscape:
Arko Dasgupta (arkodg) – Software Engineer
Envoy Gateway maintainer.
Active contributor to Envoy, Istio, and rate limit projects.
Paul Merrison (pmerrison) – Engineering Manager
Took charge as the release manager for Istio 1.17 & 1.18 as well as assuming release lead duties for Q423 Envoy security releases.
Actively involved in the Product Security Working Group.
Jianpeng He (zirain) – Engineer
Ranked among the Top 10 Istio Contributors.
Specializes in troubleshooting and observability aspects.
Huabing Zhao (zhaohuabing) – Engineer
Instrumental in troubleshooting Istio at scale.
A consistent contributor to the Istio project.
Parting Thoughts
We hope you found this spelunk through the GitHub stats of some of our favorite CNCF projects interesting. We sure did. There are surely more nuggets lurking in the data worth looking for–we've only just scratched the surface. Watch this space for more to come.
###
If you're new to service mesh, Tetrate has a bunch of free online courses available at Tetrate Academy that will quickly get you up to speed with Istio and Envoy. If you're looking for the surest way to get to production with Istio, check out Tetrate Istio Distribution (TID), Tetrate's hardened, fully upstream Istio distribution, with FIPS-verified builds and support available. It's a great way to get started with Istio knowing you have a trusted distribution to begin with, an expert team supporting you, and also have the option to get to FIPS compliance quickly if you need to.