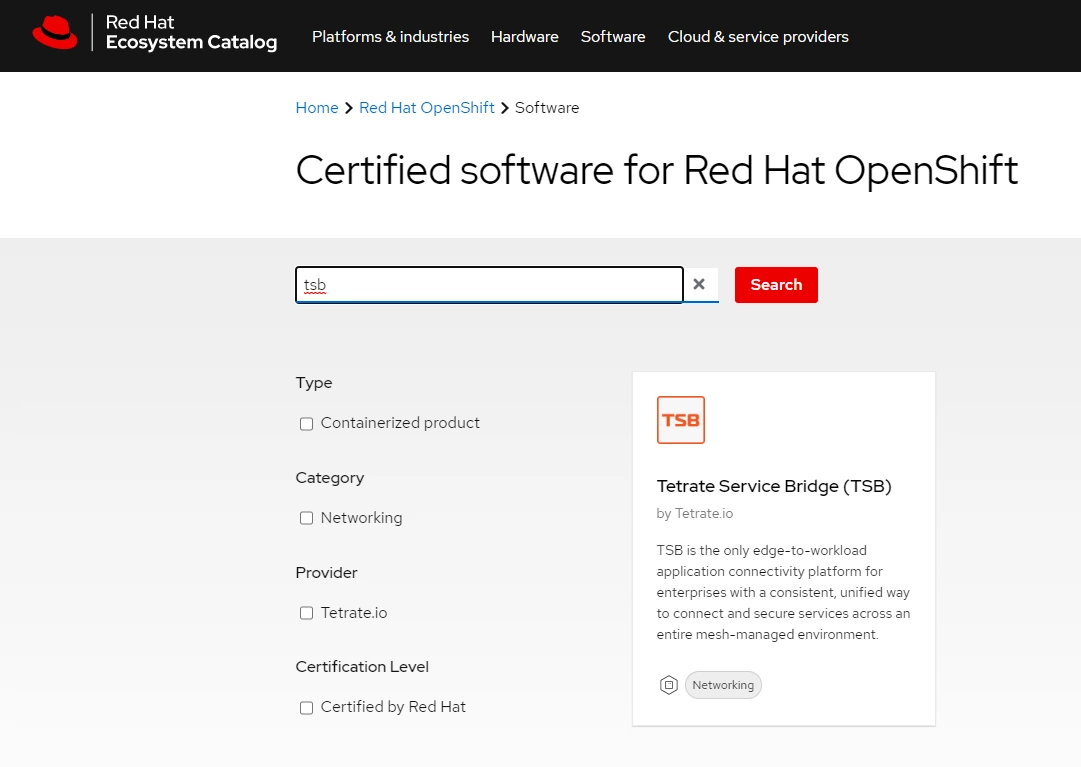 OpenShift is the de facto standard Kubernetes distribution for enterprise customers. A significant number of Tetrate's enterprise customers are Red Hat customers, so it's to be expected that Tetrate Service Bridge (TSB) will run well on OpenShift out of the box. This assures customers that they don't have to compromise on security or sacrifice the enterprise power of the OpenShift platform and migrate away to a different Kubernetes distribution that is "on the supported list".
TSB has run smoothly on OpenShift since its early days and we're pleased that a majority of early adopters have been running their workloads on OpenShift since day one. This fact has really driven us towards investing in the extended development, testing, and documentation of TSB for OpenShift use cases.
Today we're happy to report that TSB has passed Red Hat certification and now is available via the Red Hat Ecosystem. Now OCP (Openshift Container Platform) customers can access all the details of the Enterprise Service Mesh solution in the catalog and also streamline the rollout of TSB. This allows customers to focus on business applications and hand off the service mesh deployment to the TSB Platform that is backed by Istio founders and experts in the field.
Customer Benefits
Tetrate is already laser focused on OpenShift customers. With the extension of the partnership between Red Hat and Tetrate, those customers can expect the results of additional investments in the following areas:
Continuous Red Hat certification. To pass Red Hat certification, a strict list of requirements needs to be matched. Following these requirements means TSB is meeting the highest industry standards and practices. While most of those requirements are already met, some are required to be integrated in Tetrate's release process for consistency. From now on, with a continuous certification loop from Red Hat, all TSB releases have to match the certification criteria and this process is already automated.
Enhanced documentation for OpenShift customers. Tetrate documentation includes OpenShift specific details, like the sample below from the Tetrate documentation site. With the new level of the partnership Tetrate gets extra guidance from Red Hat experts around the best practices of configuring TSB on OpenShift that is reflected in TSB Documentation.
Expanded testing. To keep up with Red Hat certification and customer demands, every TSB release is tested on the large range of OpenShift versions, including the most recent or even coming soon versions.
External package validation. TSB relies on external products such as Elasticsearch, Postgres, and others for storing configuration information and application metrics. Red Hat experts are working closely with Tetrate on validating TSB with the required packages that are included in OpenShift's OperatorHub. This allows customers to shorten time to deploy, to work more efficiently with the service mesh, and to gain expertise in deploying and supporting third-party tools on their own. These pre-packaged solutions from OpenShift are tested, supported, and easy to roll out in preparation for use in TSB.
What's Next
Tetrate is in the very beginning stages of its partnership with Red Hat. Already we've learned a lot from each other and from our mutual customers and continue to do so daily. Our initial results have already proven fruitful, but there's plenty more to look forward to, such as:
Tetrate availability in Red Hat OperatorHub. We are in the planning stages of developing an offering via Red Hat OperatorHub. When ready, this will allow customers to easily onboard both new and existing OpenShift clusters to TSB's service mesh management plane.
Even better docs, use case expansion, and extended testing. Since the very early days of our partnership, we've gotten a lot of feedback from both customers and Red Hat engineering. We learn about new use cases and application scenarios daily. Now with the presence of TSB in Red Hat Partner Catalog, the amount of feedback will grow rapidly, translating into richer, more useful TSB documentation for OpenShift customers (especially in the form of additional reference architectures and step-by-step guides), additional TSB product extensions to address some of the most popular use-cases, and also standardized testing scenarios to ensure performance of TSB on OpenShift.
Both teams are enthusiastic about the future and the value that our relationship brings to our customers. We'd love to hear from our existing customers as well as enterprises about to start implementing service mesh in their Openshift clusters. Use the link below to schedule a conversation with us about your applications and challenges you're looking to address with the introduction of service mesh into your environment.