Application Connectivity and Zero Trust Security
Tetrate's government-ready service mesh aligns with key U.S. government initiatives to accelerate application modernization, mitigate risk and ensure compliance.

Supporting the Executive Order on Cybersecurity
Tetrate works with the NIST to define and promote federal guidelines for Zero Trust.

Learn how Tetrate's service mesh adheres to NIST 800-207A standards and supports core requirements of the Executive Order on Improving the Nation's Cybersecurity.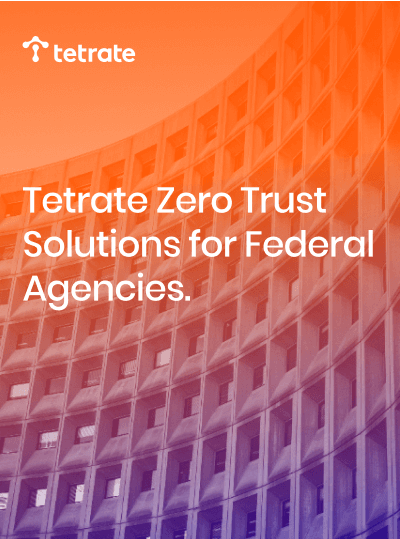 Simplify Kubernetes and Multi-Cloud Complexity with a Service Mesh
Public sector leaders responsible for infrastructure modernization and mission success are embracing a microservices architecture typically orchestrated by Kubernetes (K8s) and running in a multi-cloud environment. Simultaneously, developers and platform teams need to ensure modern apps and services are secure and compliant to thwart potential cyber attacks. A service mesh helps government agencies meet these objectives by providing the essential components of security, observability, and network traffic management to make it easier to build and run cloud-native apps. With Tetrate, developers can focus on application logic while offloading security, observability and networking concerns to the service mesh platform.
Tetrate delivers a government-ready service mesh built on open source Istio and Envoy to empower organizations with secure, resilient and observable microservices across all classifications and air-gapped environments.
Flexible Deployment Options
Tetrate Istio Subscription
Easiest way to get started with open source Istio and Envoy
Learn More
Tetrate Service Bridge
Government-ready application networking and security platform
Learn More
Embrace a Zero Trust Security Model
Zero Trust follows the principle of never trust, always verify.

Tetrate's Zero Trust solution adheres to NIST 800-207A standards. Leverage identity based segmentation and the concept of least privileged access for every access decision using the service mesh.
Enhance cyber resilience
Enable proactive operations and faster diagnostics. Contain and reduce the impact of breaches for uninterrupted mission execution.
Protect your data
Keep data's confidentiality, integrity and availability in compliance with government requirements such as NIST 800-53, FedRAMP, FIPS and GDPR. 
Enable Zero Trust at scale
Enforce security policies and validate identities for every service-to-service communication.
Partner Ecosystem
Tetrate partners with leading cloud providers, top system integration partners and trusted resellers.
Together we help customers secure and deliver modern applications that support mission objectives.
Government Agencies Trust Tetrate
Tetrate helps government agencies meet security and application modernization goals. Whether your agency is starting the process for FIPS, FedRamp, GDPR or NIST 800-53 or bridging private and public clouds, Tetrate products are built to meet government compliance standards.
Get started today
Learn how Tetrate can help modernize infrastructure and put Zero Trust into action.