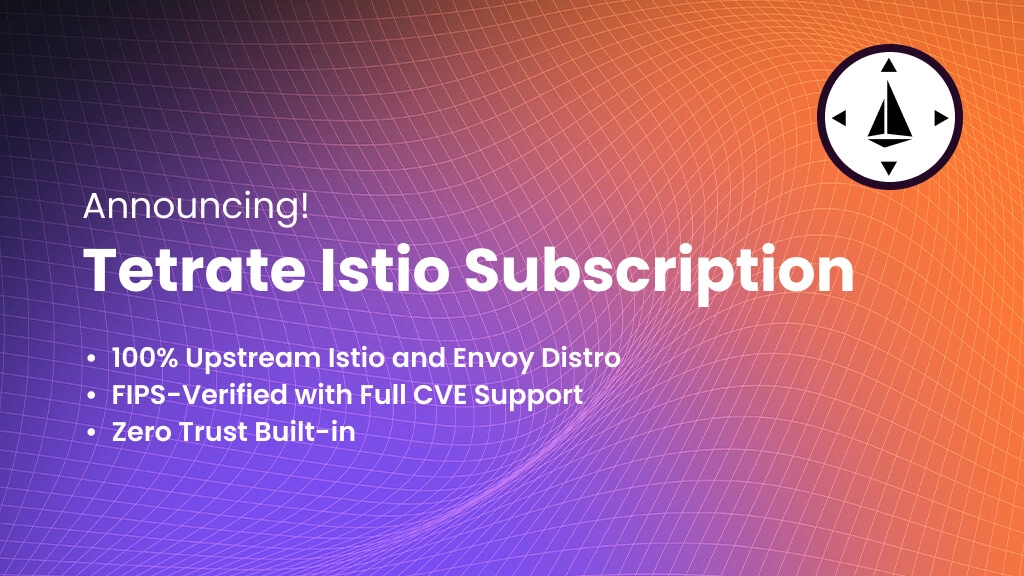 We are thrilled to announce the general availability of Tetrate Istio Subscription (TIS) – the only 100% upstream Istio and Envoy Distro that is enterprise-ready. Keep reading to learn what TIS offers, why it matters and more specifically, why it matters to you.
The Birth of Tetrate Istio Subscription
Founded by a number of the creators of Istio, Tetrate was always focused on solving application networking challenges in the enterprise with Istio and Envoy. Since the inception of the company, we have offered education, support and a free version of Istio with Tetrate Istio Distro (TID). When Istio was donated from Google to the Cloud Native Computing Foundation (CNCF), this product was more formally offered to the market as TIS. We have made significant improvements to TIS recently and so now is the time to announce its general availability – shortly after Istio's graduation from the CNCF and when interest in the project continues to quickly grow.
Why Tetrate Istio Subscription?
Tetrate Istio Subscription isn't just another Istio distribution – it's the industry's only fully upstream service mesh based on open-source Istio. Let's break down what sets it apart:
Expert Support and Best Practices: TIS combines always-on expert support and best practices, ensuring that your Istio deployment is not just functional but optimized for success.
CVE Protection: Tetrate understands the importance of security. With TIS, you get continuous and extended protection from Common Vulnerabilities and Exposures (CVEs) of open-source components. This means you can rest easy knowing your environment is safeguarded against potential threats. Just this week, we posted about the "Rapid Reset" DDos attack, something our TIS customers are protected from.
FedRAMP Compliance: TIS is the only FIPS-verified, 100% upstream distribution that meets FedRAMP authorization requirements. If you're part of a government agency or highly regulated industry, you'll appreciate TIS's fast-track to a verifiably compliant Federal Risk and Authorization Management Program (FedRAMP) environment.
What Users Are Saying
Austen Bryan, product lead at Tetrate partner Defense Unicorns, notes, "TIS has grown alongside Istio, solving a real problem for governments, highly regulated industries, and large enterprise users who need application networking that delivers a standardized Zero Trust architecture out of the box."
Key Facts About Tetrate Istio Subscription
TIS is based on the Tetrate Istio Distro (TID), which provides vetted builds of Istio tested against all major cloud platforms.
It adds training, architectural workshops, expert enterprise production support, best practices, and extended CVE support.
TIS is the first and only 100% pure upstream Istio distribution to achieve FIPS verification.
It's fully compliant with NIST 207A, the U.S. federal standard for Zero Trust architecture.
TIS is designed for highly regulated industries, providing automated policies for compliant security.
In short, Tetrate Istio Subscription is a game-changer for enterprises seeking the power of a supported service mesh solution with Zero Trust built in. With TIS, you get the assurance and risk-mitigation of a widely deployed open-source technology stack that is FIPS certified and FedRAMP compliant.
Tetrate Istio Subscription is designed to help you quickly and easily bring Istio and Envoy into your organization. Explore the TIS Starter Package, designed to simplify installation and get ready to experience the power of the service mesh to modernize microservices management and security.
For more information, visit our TIS page, read our case study with Informatica and explore a TIS Demo.