Accelerate Istio Adoption with EKS Blueprints and Tetrate Istio
Oct 26 2023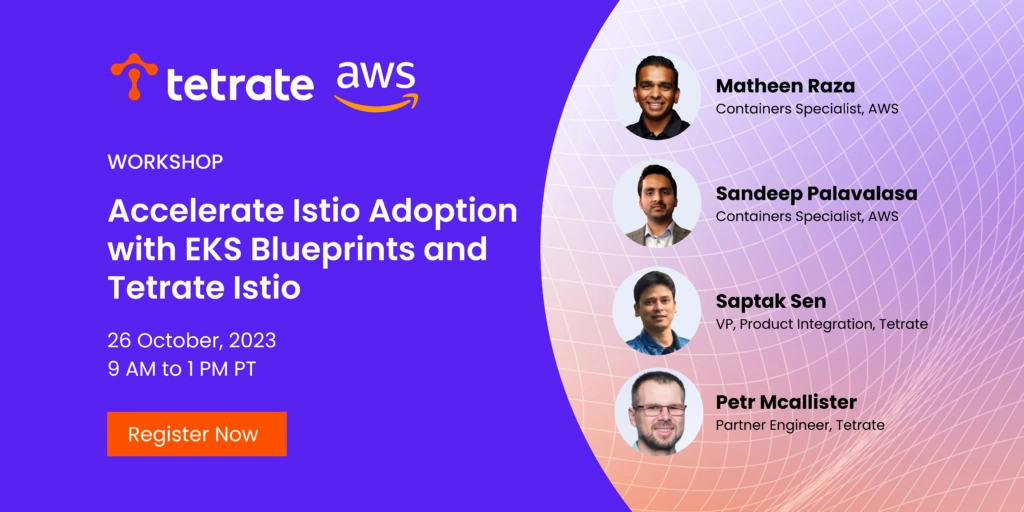 Accelerate Istio Adoption with EKS Blueprints and Tetrate Istio (Hands-on Workshop)
Join us for a hands-on workshop in partnership with AWS, where we'll delve into how you can fast-track the deployment and management of Amazon EKS and Istio using EKS Blueprints and Tetrate's unique Istio add-ons.
Amazon EKS users can simplify Istio deployment and operations with the Tetrate Istio addon. This enterprise-grade Istio distribution from co-creators of Istio is the easiest way of installing, operating, and upgrading Istio available today with an optional FIPS Certified version available. EKS Blueprints empowers DevOps and SRE teams by centralizing proven tools and methods for streamlining containerized infrastructure operations. In our session, AWS specialists will guide you through the intricacies of EKS Blueprints. You'll then dive into a hands-on workshop featuring Amazon EKS, powered by EKS Blueprints and Tetrate Istio Distro.
Don't miss this chance to deepen your understanding and practical skills surrounding EKS and Istio. We look forward to seeing you there!
Hosts
Matheen Raza
Containers Specialist, AWS
Sandeep Palavalasa
Containers Specialist, AWS
Saptak Sen
VP, Product Integration, Tetrate
Petr Mcallister
Partner Engineer, Tetrate
Agenda
9:00 AM: Welcome and Introduction
9:15 AM: Module 1 – Provision Amazon EKS Cluster
10:15 AM: Module 2 – Deploy a Workload to EKS
11:00 AM: Tetrate and Istio Overview
11:30 AM: Module 3 – Tetrate Istio Distro on EKS

Deploy Istio, Gateway, Traffic Shifting
TLS Configuration Example
Bonus: Implementing AWS NLB with Istio

12:15 PM: Interactive Kahoot Session
12:30 PM: Wrap-Up & Open Discussion
Who should attend
DevOps engineers
SREs
Cloud Architects
Software Engineers
Platform Engineers
Data Engineers
Watch now
Date and Time:
Oct 26 2023 | 9 am - 1 pm